NYC Trip Blog Series
Part 2: Urban Knight Photoshoot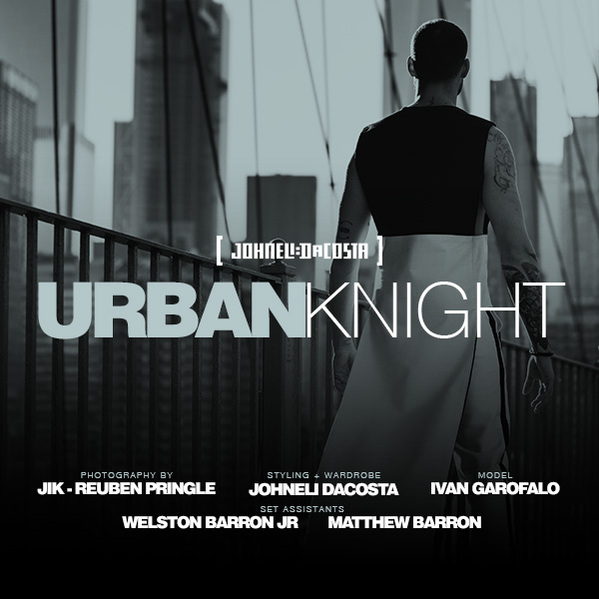 Before travelling to New York, mutual friend Anna-Lisa referred me to JohnEli DaCosta as a potential person to capture his clothing line while he was in New York. After a few discussions and showing of my portfolio, he was impressed and we moved ahead with booking my services while I was there on vacation.
We knew we wanted to shoot in Manhattan but it wasn't until closer to the date that we decided on shooting on the Brooklyn Bridge. It was fresh and cool to me and when the idea was pitched by JohnEli, I def saw how it would fit his designs superbly.
This was my first time going to the Brooklyn Bridge as a pedestrian, I've always travelled via subway or car and as such, I had no clue the bridge would be congested with tourists and cyclists who also wanted to take photos by the bridge's towers.
We made a calculated risk to still carry out the session and it worked in our favour; we captured some amazing photographs that day. Oftentimes as photographers, you will be placed in situations where you have shift gears suddenly and leave the original script behind.
What was humorous about the day was that the entire team also became one of the many attractions on the Brooklyn Bridge. I can't even begin to count how many people took photos of us carrying out our photoshoot. Especially of me as I resorted to lying on the ground and standing in weird poses to get the desired angles and lighting I wanted. It was definitely a memorable day from my trip to NYC.
Enjoy!
Technical Team:
Fashion Designer and Stylist: JohnEli DaCosta
Visual Ninja: Jik-Reuben Pringle
Wardrobe/Photo Assistants: Welston Barron Jr & Matthew Barron
To be continued….Part 3 coming soon!
-Jik-Reuben Pringle, The Visual Ninja
2017
~Peace, Perfect Peace~